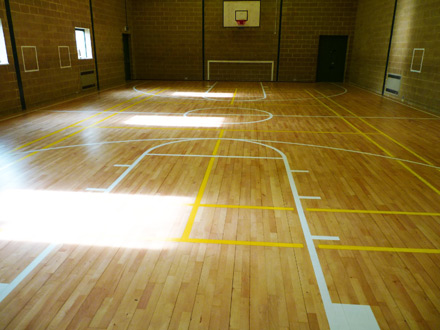 Here we would like to give you some simple guidelines to help you take care of your natural wooden sports floors. Even solid hardwood floors for commercial purposes need a professional treatment on a regular basis.
Most of sports floors are finished with a professional and extremely resistant lacquer yet it does not provide the full protection for the floor if it is not maintained in a right way. It is especially important to take care of the line marking on the floor due to extensive wearing.
Due to such hard wearing conditions it is also worth considering to apply an additional level of lacquer to make the floor better prepared for the coming events.
One of the easiest yet most important steps in sports floor care is to sweep the floor regularly and to place a matting to reduce the amount of water and grit damage that can be done to the floor.
Remember to get rid of all signs of substances making the surface of the floor slippery and dangerous as a result.
Always maintain the right level of humidity in the air so that no moisture gathers on the surface of the floor, which may be harmful for the sports floor and for its users.
If you need any kind of a sports floor care products or services – remember that we can offer you pretty much anything you and your sport floor require. In case of any questions you can contact us using the contact form in the contact section. We will always find the best treatment solution for your sport floor.
We mainly operate within Bristol and its nearest surroundings. If you're not sure whether we provide our works in your region – just call us.