Town hall floor renovation in Hungerford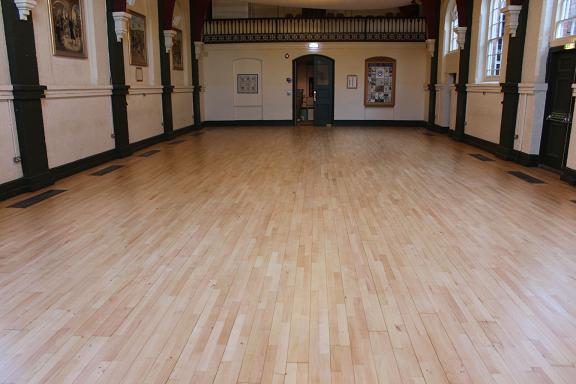 Below you can see the results of town hall floor renovation in Hungerford which our team of engineers, fitters and installers have provided recently.
What did the renovation project include:
The wooden floor surface made of engineered oak floorboards needed a proper maintenance, but, above all, some of the wooden panels had to be replaced as they had cracks and bends. Also, the entire floor needed a professional sanding to remove the old finishing and apply a new one to make it better protected and visually attractive.
How did we do it:
Our company uses the best equipment to bring all used and old floors back to their natural beauty and highest quality.
Some of the devices we used to renovate the town hall floor:
Bona belt sanders (perfect for efficient sanding of all floor types),
Bona edge sanders (reach every corner, threshold, etc.),
fully dust-free sanding system to keep all the dust inside,
The renovation included removal of old and cracked panels, fitting and installation of new ones and the subsequent sanding using our Bona sanders with an efficient dust-free system to keep all the dust inside and make the sanding procedure more efficient and healthy. After the complete and thorough sanding we have provided a new finishing oil for the surface to protect it and make it look excellent.
The town hall floor sanding was performed in Hungerford which is halfway between Bristol and London. Most frequently we realise projects in Bristol and its nearest surroundings. We deal both with commercial and domestic renovations, repairs and fitting works.
Renovation effects:
Before renovation: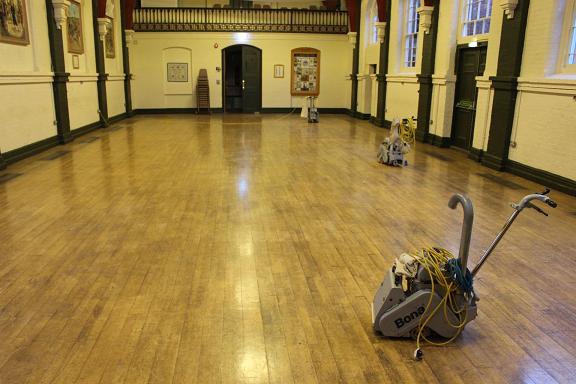 After renovation: